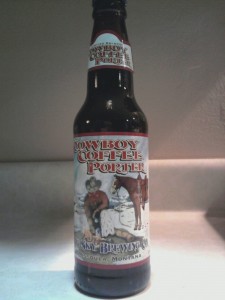 Over the weekend, I had a chance to try a Big Sky Brewing Cowboy Coffee Porter.
It started out with a roasted scent, but even though it has coffee as an ingredient, it was difficult to pick it out.
With the taste, it had a medium to light body, and tasted like chocolate with a hint of coffee.  As a side note, the coffee was very very light, and, just like the aroma, the coffee was difficult to sense.
Overall, it was a nice medium-bodied limited-edition porter.  Have you had the Cowboy Coffee Porter?  What was your take?