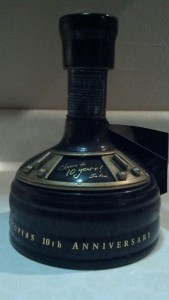 This past weekend, I had a unique opportunity.  A friend of mine had the chance to buy a bottle of the 10th Anniversary Samuel Adams Utopias.  Before the beer is complete, it undergoes quite a bit of a process; in addition to the standard beer ingredients there are also several sugars added (i.e. maple syrup).  There is then a long fermentation time, utilizing several yeast strains, finishing with champagne yeast since it can handle the higher alcohol content.  After it is done fermenting, it clocks in at a whopping 29% ABV.  It is then aged in casks that previously held bourbon, rum, tawny port and ruby port.
All of this equals a very complex beer.  There were three of us who tried it, and each of us has different experiences.  One tasted a smoky maple flavor, another tasted a sweet vanilla and maple flavor.  For some reason, I tasted a bit of banana flavor, with a lot of strong vanilla hints.  It was very alcoholic, reminded me of a whiskey, and burned all the way into the stomach.  It was definitely not for the faint of heart, but for a beer lover like myself, it was great.
Have you tried Utopias?  What did you think?