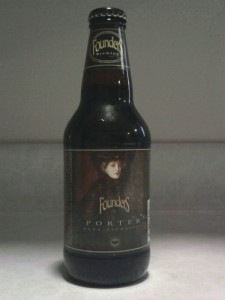 Ever since SF 2088 was passed in Iowa, I have been anxiously awaiting Iowa brewers to begin producing beer above 6.25% ABV, as well as companies to begin distributing their higher-alcohol selections in Iowa.  No company fits the latter situation better than Founders Brewing Co. in Grand Rapids, Michigan.
One such beer that is not yet available in Iowa (so I get it in Illinois) is Founders Brewing Co.'s Porter.
It is a very dark, chocolaty robust porter with higher body and sweetness.  It poured as dark as night, and had a nice, thick, dark head.  It was very smooth, and tasted like caramel and chocolate.  Because it is at 6.5%, it is has not yet been distributed in Iowa, but I would drive an hour to buy this beer, it's that good.  Just like the label says, it's "Dark, Rich, and Sexy".
So, let's see if we can send Founders a message that we want their beer in Iowa, now that SF 2088 passed.  I say cheers to Founders Porter!