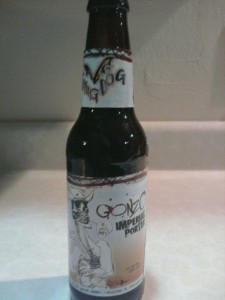 Saturday of American Craft Beer Week I tried the Gonzo Imperial Porter form Flying Dog Brewing.
It smelled a lot like chocolate and had a roasted scent to it.  It was a very full and thick beer with a lot of body.  It tasted a bit like bitter chocolate, almost like a dark chocolate.  It left a nice warming sensation due to the alcohol content (~7.8% ABV), as well as a nice chocolate aftertaste.  When I tried this beer, it was a bit warmer, at 60 degrees F, and I enjoyed it from a goblet.
Have you tried the Gonzo Imperial Porter?