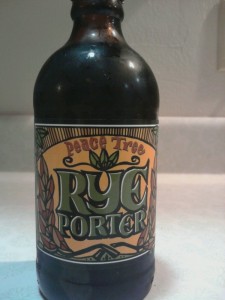 Tonight I had the third bottled Peace Tree beer, the Rye Porter.
It was a nice chocolatey porter, and had a crisp flavor.  It was clean on front of tongue, as it hits the back of the tongue, the Belgian-ness character (from the yeast) shows up.  After the finish, it leaves a nice chocolate flavor with a bit of the Belgian character staying with you.  It was a nice, smooth, crisp porter.
Of the three Peace Tree bottled beers, including Red Rambler and Hop Wrangler IPA, the Rye Porter is my favorite!
Have you tried the Rye Porter?  What did you think?  What's your favorite Peace Tree offering?