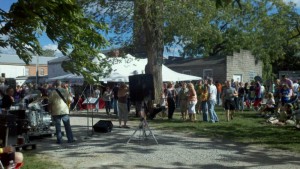 Last Sunday was the 7th annual Festival of Iowa Beers, and each year it continues to grow. This year,all the Iowa breweries, including the newly-named Backpocket Brewing, and many of the Iowa homebrew clubs participated.
Overall, it was a great day, and a great day for beer, with interesting beers from the commercial breweries, including a new Extreme Series beer, a dark rye, from Millstream Brewing.
Just like the previous Festivals, the homebrew tent offered the most interesting beers, including several barrel-aged beers, including an imperial stout aged in a Templeton Rye barrel, along with several meads and ciders .  My favorites from the homebrew tent were the Templeton Rye barrel-aged stout, an Imperial Wit, a Duvel clone, and a Munich Helles.
As always, I look forward to next year's festival.  Did you make it out to the festival?  What were your favorites?