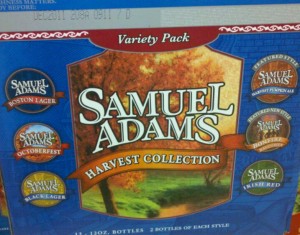 As the days grow shorter and the leaves start to fall, Samuel Adams has released their latest variety pack, the Harvest Collection Variety Pack, just in time for the season.  As they usually do, they have replaced one beer style, the dunkelweizen, with another German style, the rauchbier, which is a beer that uses smoked malt to lend a smoky flavor to the beer (it goes great with grilling).  I'm very interested in Samuel Adams' take on the style.
In the pack, there are 2 bottles each of:
All in all, a fairly good mix pack, except for maybe the pumpkin ale (which I've expressed my displeasure before).  Get it while it lasts!
Have you tried the Harvest Collection Variety Pack? What's your opinion?