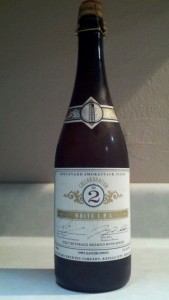 I had a chance to sample the Boulevard Smokestack Collaboration #2 – White IPA, a collaboration with the Deschutes Brewery in Oregon, over the weekend and I found it to be a great beer.  Imagine a Belgian style wit beer with more hop bitterness.
At first sip, it definitely tasted like a witbier, with nice spicy fruitiness.  As the beer hits the back of your tongue, it goes into more of the piney, herbal, stronger American hop flavor.  The hop-forward flavor wasn't overpowering, and balanced out nicely with the witbier spice and citrus notes.
Overall, I loved how the White IPA started like a wit but then finished with a nice and firm, but not overpowering, hop bitterness. It was a very good beer, and I hope this collaboration sticks around or happens again.  It's great to see breweries pushing styles out of the way to make a great beer.
Did you try the Collaboration #2?  What did you think?