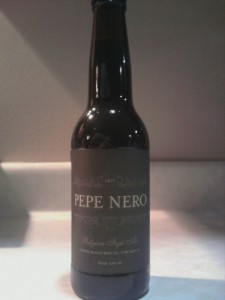 The other day, I had the chance to try the new Vintage Ale from Goose Island, Pepe Nero.
It is considered a farmhouse ale, but is much darker than any I have seen of this style.  When I first poured the beer, it was a dark brown-red color.  It had a very strong scent to it, with a large burnt caramel aroma with a bit of Belgian-style sour scents mixed in.
The flavor was very interesting.  It had a strong roasted chestnut flavor with just a hint of Belgian funkiness on the finish.  It had a slight bit of tartness, but not too much to be overwhelming.  The final impression reminded me of a lighter Belgian dubbel .
Did you try Pepe Nero?  What was your impression of this new ale?