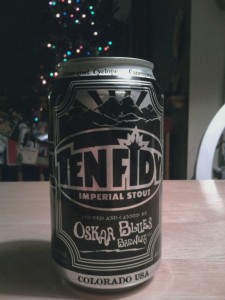 While in New Jersey, I had a chance to try one of the best beers in a can, Oskar Blues Ten Fidy.  The beer, an Imperial Stout, gets its name from the 10.5% ABV of the beer.
I didn't quite know what I had in these little cans.  When I cracked it open and poured it into a glass, it was so thick and rich, it looked like used motor oil.
It had a very strong chocolate scent.  With the first taste, it had a great, thick chocolate flavor.  Even though I could feel how thick this beer was, I was surprised how remarkably balanced it was.  Even with the big mouthfeel, I found myself having a couple of these before I was done.
I was very impressed by this great beer, and it takes a place as one of my favorite stouts.
Have you had Ten Fidy?  What did you think?