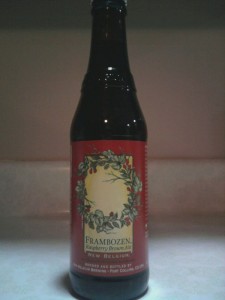 I have to say, it took me a while to review New Belgium's Frambozen.  One time I enjoyed it, where it was slightly tart, and then the next bottle I didn't like it at all.  It seemed to be a bit of a beer enigma.  Over the course of the six pack, I found it was better chilled and poured into a goblet-type glass.
The beer started off slightly tart.  It had a brown-ruby color and has a slight scent of raspberries.  As it traveled through the mouth, it had a fairly light mouthfeel and had a bit of tartness.  It finished fairly clean, but left a hint of raspberry behind.
The overall impression of this wasn't great because, to me, it seemed to be stuck between two styles – malty brown and tart raspberry.
What did you think of Frambozen?