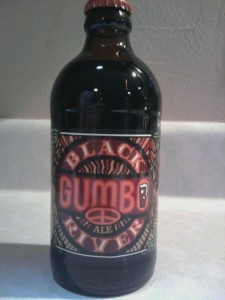 Over the past week, I've enjoyed a six-pack of Peace Tree's new offering: Black River Gumbo Stout.  It happens to be one of those 'I can have a few of these' stouts.
What makes this stout unique is the use of a Belgian yeast.  So far, there are only a few Belgian-style stouts on the market (e.g. Boulevard's Dark Truth Stout), but the Black River Gumbo Stout is the most drinkable due to its lighter body.
To start with, the beer had a coffee and roasted scent to it.  There was a lot of roasted and chocolate flavors present, but there was a hint of a unique flavor, similar to a cola, that isn't in many beers.  It had medium body, and finished fairly clean, leaving a slightly bitter, roasted, and smoky aftertaste.
Overall, I enjoyed the Black River Gumbo Stout quite a bit.  I've heard that Peace Tree serves this on a Nitro tap at their Knoxville tap room, so if you're in the area, check it out!
Have you had the Black River Gumbo Stout?  What did you think?