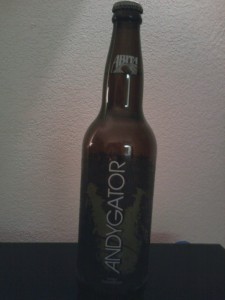 I was working in Tennessee this past week, and I had a chance to check out a few beers I normally don't get a chance to try.  One of the selections I had a chance to sample was Abita Andygator.
It was a helles doppelbock, making it stronger than the typical helles.  My overall impression: it was nice and malty, and was a very drinkable beer.  There was a bit of a fruity scent with an initial sweet taste.  It had a nice golden color, and a good malt flavor that carried through to the aftertaste.  There was little to no hop flavor or aroma.
Have you tried Andygator by Abita?  What did you think?