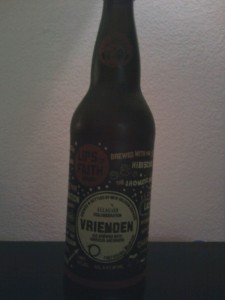 While in Tennesse, I had a chance to try a bottle of Vrienden (Flemish for 'friend'), a collaboration between Belgian beer specialists New Belgium and Allagash Brewing.  It was a Belgian style ale brewed with hibiscus and endive.
It had a bit of a slight 'funky' Belgian smell from the Brettanomyces and Lactobacillis.  The flavor started sweet then finished with slight Belgian funkyness.  It was definitely an interesting beer, but unfortunately, not one of my favorites.  To me, it seemed that the sweetness and hibiscus flavors were overpowering.  I have a feeling that the beer may have been better if I would have been able to age it for a period of time.
Have you tried Vrienden?  What did you think?