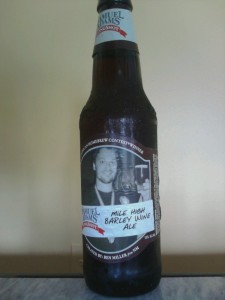 I had the chance to try the final of the three Samuel Adams Longshot Beers: Mile High Barley Wine Ale.  Just like the name states, it's a barley wine, which is a strong, malty ale.
Initially, it smells like caramel and plums.  It was very smooth, and had a very heavy mouthfeel.  Coming in at 9.8%, it is a nice potent ale.  It finishes with a strong caramel flavor and was slightly hoppy, and had a nice balance. It was created by Ben Miller from New Mexico.
What did you think of the Mile High Barley Wine?