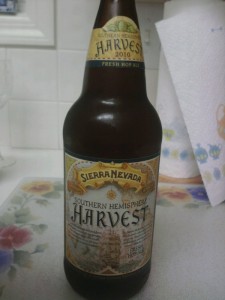 I got a chance to have some of the Sierra Nevada 2010 Southern Hemisphere Harvest Ale.  It uses hops from New Zealand that are picked then immediately shipped to brewery before drying, to be put into the brew.
The beer smells like a pine-like hop aroma with a hint of a fruity scent.
It tastes almost like it smells, with a pine-like citrus hop flavor, and finishes hoppy on back of your tongue.  The aftertaste is hop-filled with lingering bitterness.
Have you tried the Southern Hemisphere Harvest Ale?  What did you think?