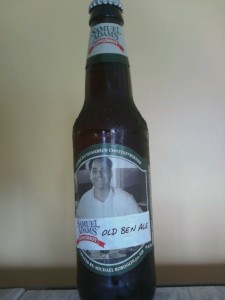 The second of the Samuel Adams Longshot pack that I tried was the Old Ben Ale.
It was a nice strong English-style ale.  It was a 9% ale brewed by Michael Robinson of New Hampshire.
At first scent, it smells like plums or raisins but was pretty difficult to pick out.  It was a thick beer and had a strong caramel flavor. It was very smooth but strong.
Have you had the Old Ben Ale?  What did you think?