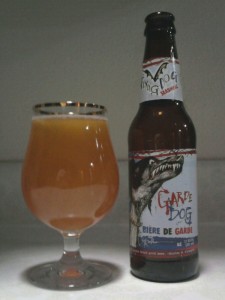 Over the weekend, I had the opportunity to try the latest seasonal offering from Flying Dog Brewery, Garde Dog.  It is a Biere de Garde style of beer, which is a French farmhouse ale, similar to the saison style, but tends to have a bit less hop flavor and aroma.
This beer poured nicely, and I made sure to swirl the last bit of beer left in the bottle to mix in the yeast.  It started out fruity and slightly malty, and had just a hint of spice.  The hop flavor was slight, and the balance was perfect.  The finish was so clean, it was as if I had just had a sip of water.  It was very light and refreshing, and I can't wait to have one of these on a nice summer day.
Have you tried Garde Dog?  What's your experience with Biere de Garde?