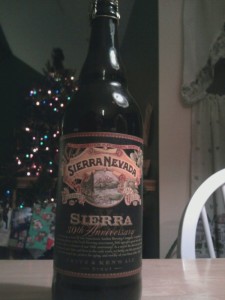 Over the holidays, I had the chance to have one of Sierra Nevada's 30th Anniversary collaboration beers, the Fritz and Ken's Stout, from the mind of Ken Grossman, the founder of Sierra Nevada Brewing and Fritz Maytag.  Fritz is the great-grandson of the founder of the Maytag Corporation, headquartered in Newton, Iowa (which is also the hometown of Madhouse Brewing).  He essentially saved American craft beer in 1965 when he purchased the Steam Beer Brewing Company in San Francisco, now the maker of Anchor Steam.  The brewery was about to close its doors when Fritz bought the company and saved it, along with craft brewing in the process.
This beer was actually purchased about a year ago, but has been in cellar temperatures (around 50 degrees) since then.
I must say that this beer was worth the wait.  It poured very dark, with a tan head.  It smelled like roasted coffee and chocolate.  When I tasted it, I was very impressed.  It was a very nice, thick stout with a bunch of mouthfeel.  I felt it was almost porter-like because it was very thick, smooth, and chocolatey.
It was a great beer, and I am very disappointed that I didn't save more.
Did you try the Sierra Nevada 30th Anniversary Fritz and Ken's Stout?  What was your take?