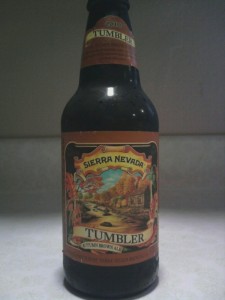 It's that time of year again, when the leaves lose their green color, it becomes cooler, and football season starts.  It's also time for the fall seasonals!
One of my favorite styles is Oktoberfest, but Sierra Nevada was first to the punch for fall seasonals by releasing their Tumbler Autumn Brown Ale in early August.
It was a nice brown ale.  It initially smelled like roasted malt, with the flavor like roasted malt.  It finished with nice roasted aftertaste with a hint of chocolate.  It was a smooth brown ale that had just a hint of hop flavor.
Have you tried Tumbler Autumn Brown Ale?  what did you think?