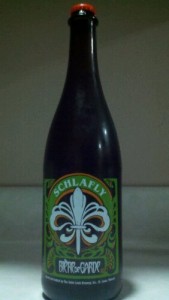 The last few weeks, I have been traveling around, going out to New Jersey then down to Saint Louis.  Because we drove to each place, it gave me the opportunity to bring back some beer not available in Iowa, such as some from Oskar Blues, Avery, and Schlafly.
One of the beers I brought back from Saint Louis was Schlafly's Biere de Garde.  I've had many different saison farmhouse ales, but this is one of the only biere de gardes I've had.  Without trying to sound too simple, saisons tend to be a bit lower in alcohol with a bit more hop flavor.
This beer was a very nice farmhouse ale.  It smelled very fruity with a bit of Belgian funkiness.  The flavor had a nice malty backbone with just a little but of hop flavor.  This was a great find, and I'm glad I had the chance to try one.
Have you had the Schlafly Biere de Garde?  What did you think?