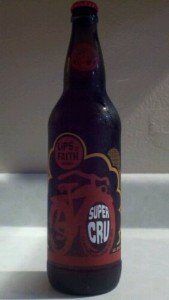 During the dog days of summer, I'm always looking for strong beers that go down well when it's hot out.  I recently tried the new offering from New Belgium, Super Cru.
Super Cru is a strong Belgian ale that was formulated with the same malts as their flagship beer, Fat Tire, but double the quantity.  It also included Asian pear juice to strengthen it even more and to lighten the body.
Initially, it had a very fruity aroma.  With each sip, it slightly tasted like Fat Tire, but the Asian pear juice did lighten it up.  The pear juice was very forward in the flavor, and it changed the complexity of the beer.  It was a good Belgian strong ale that was light enough to enjoy during the sweltering summer months.
Have you had Super Cru?  What was your take?