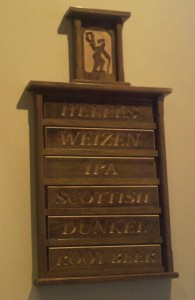 Over the weekend, I had the pleasure of visiting the local brewpub in McGregor, Iowa: Old Man River Brewing Company. Over the course of the meal, we got the scoop of several expansions the brewery was planning:
There are plans in the works to possibly expand to a location in Dubuque, Iowa, including the restaurant and brewery
Also, and more exciting for us personally, there is a rumor that the brewery is looking into expanding to Iowa City and create a production brewery. This will allow them to distribute the beers created at the brewpub, including a dunkel and a helles (also which happen to be the beers I had while at the restaurant – both were great). Hopefully a tasting room is in the plans.
This wasn't the first time I had heard the rumor of the brewery coming to Iowa City, but I was glad to have it confirmed by another source who worked there.
What do you think? Have you heard about either one of these rumors?