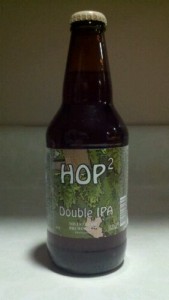 Over the weekend, I had a chance to sample the latest Millstream offering, the Hop 2 Double IPA.
The Hop 2 poured a copper color, and had a floral scent with a bit of citrus.  With the first taste, the first thing I noticed was the medium body.  It had a citrus hop flavor with a slight hint of a earthy, noble hop with a strong malt balance.  It finished on the light side, with just a bit of lingering hop flavor.  It was a very balanced Double IPA.
Hop 2 didn't list the alcohol percent, but even as a Double IPA, it didn't have much of an alcohol warming, which was great.  Overall, Hop 2 was a nice beer that, with the lighter body, makes me want to have more then one.  So why don't I?
Have you had the Hop 2?  What did you think?