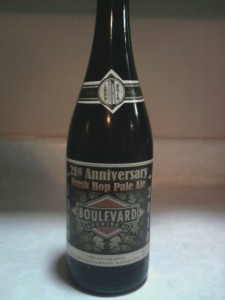 Boulevard Brewing recently celebrated their 21st anniversary, and to celebrate, the brewery created a fresh hop pale ale.  Last week, I had a chance to grab a bottle.
First off, it poured a bit darker than I expected.  It looked more in the range of an IPA color (more of a caramel color) than a pale ale color.  The first sniff gives a bit of citrus on the nose, with a hint of grassy from the fresh hops.
The taste was very similar to a pale ale, with a hop forward flavor, giving way to the malt backbone.  This was different than other fresh hop ales I have had because this beer had more of a peach flavor, with just a hint of citrus flavor.
It was a good beer that makes me want another, just to try and break down the complexity of it.
Have you tried the 21st Anniversary Ale from Boulevard?  What was your take on it?