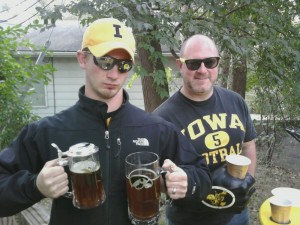 With college football season nearing the end of the season, we take a look back and reflect on how the season went.  On the field, things didn't turn out exactly the way we had hoped, but at least we had a great time tailgating.
This year, we got together every Saturday with our friends, just like last year, and had lots of food with homebrew.  Three of us divided up the weeks for home games, and made up a batch for each week to bring to the tailgate.
Some of the different beers we made included a saison, a honey red ale, an Oktoberfest, a trippel, and a Boston lager clone.  Each of these beers went very well with the smoked pork shoulders, homemade pretzels, and other food we had.
Here's the best part: at one point during the season, we started designing a "homebrew keg totem".  Although it never materialized, by next year, we should have it built and ready to go.  The design is a twelve-inch diameter PVC pipe, 5 to 6 foot high (which isn't easy to find).  It has two beer taps, and on the back, there's a post to connect the carbon dioxide tank.  It will look like our school mascot, and going to dispense our delicious homebrew.
What's your favorite tailgating beer?  Have you made or had homebrew for tailgating?  Let me know!