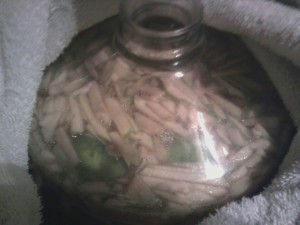 Over the past three weeks, every Sunday, I've been working tirelessly on increasing my winter beer reserves.  With family coming to town for Thanksgiving, and an "Ugly Sweater Party" the beginning of December, I had a lot of beer to make.
Starting off, week one, I made a saison, and one of my specialties, caramel apple tart.  The previous time I made the caramel apple tart, I used a sour mash, but decided to use a less time consuming method of adding acid malt the last ten minutes of the mash.  Here's the all-grain recipe (let me know if you want more details):
6 lbs 2-row malt
3 lbs Munich malt
0.5 lbs Crystal 40 malt
0.5 lbs Special B malt
1 lb Acid malt (10 minutes left in the mash)
1 oz Willamette hops (60 minutes, 3.5% AAU)
1 oz Willamette hops (10 minutes, 3.5% AAU)
2 Granny Smith Apples (Julienne'd in the secondary)
California Ale-type yeast (I used WLP001)
The last time I tried this beer, it was a hit at our engagement party, so much so that everyone kept asking when I would make it again.  It's a nice, slightly tart beer with an aroma of apples and a hint of caramel.  It has a very refreshing finish, and leaves a bit of "tart apple" in your mouth.
Week two, I made a nice Belgian Wit and a Samuel Adams Boston Lager (as an ale) clone.  These four beers, along with an Oktoberfest done a month ago, give us plenty of beer to have around the holidays.
However, not being satisfied with these for our holiday party, this past Sunday, I made an Oatmeal Cookie Ale (with vanilla and cinnamon), and a Gingerbread Cookie Ale (with ginger, cinnamon, and cloves).  I know I've said how I dislike spiced winter beers, but I had to make an exception, especially when I keep the spices to a minimum.
Have you made or had any out-of-the-box beers lately?  Let me know!