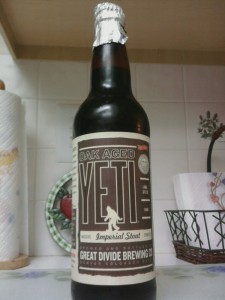 One of the beers I purchased the last time I came East but didn't have the chance to try until this trip was the Oak Aged Yeti Stout, from the Great Divide Brewing Co in Denver, Colorado.
All I have to say is "Wow!"  It was a nice, thick imperial stout with a ton of flavor and complexity.
Initially, it smells like coffee.  It's very malty and leaves your mouth with a slight warming sensation because of its strength.  It is very smooth going down, and it leaves your palate flavored like coffee, chocolate, and vanilla.  It was a very complex and deeply flavored beer, and I enjoyed it quite a bit.
Have you tried the Oak Aged Yeti Stout?  What was your opinion?