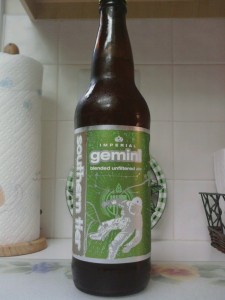 I had the chance to try Southern Tier Brewing Company Gemini, based in Lakewood, New York.  It's a 50/50 blend of their unfiltered Hoppe and Unearthly beers.
As an IPA, I was prepared for an ultra hoppy beer, but it was an excellent blend that was very smooth.  It didn't have too much bitterness, and was very balanced.
The beer had four different types hops in boil, and five types of dry hops.  This contributes a ton of citrus and floral flavor that balances out with the thick malt flavor.
I have to say, this was a great beer.  I would definitely recommend it to anyone.  Don't let the IPA label scare you because the hop flavor and aroma was very subdued, but just be prepared for it to be thicker than your regular Pale Ale or other session beer.
Have you had Gemini?  What did you think?