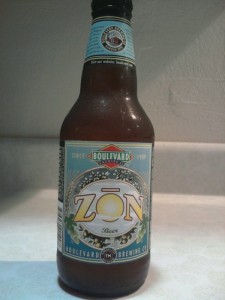 I mowed the lawn today, and when I was done, I felt like having a less-traditional "lawn-mower" beer, so I picked up a 6-pack of Boulevard Brewing Zon (pronounced like zone).  It is similar to a Belgian-style wit beer.
It was light and crisp with a lemon citrus flavor.  On the finish, there was a slight tartness, and it was very refreshing.
Although it is different than several of the Belgian wits I've had, I did enjoy it.  Have you tried Boulevard Brewing Zon?  What did you think?