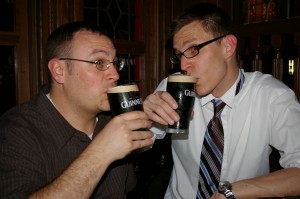 It's that time of year again, when you get out your green, and celebrate your Irish-ness, even if you aren't Irish.  Now, there is a hierarchy to quality of beer on St. Patrick's day, and I'm going to break it down for you.
Here's the category breakdown:
Good: Green beer.  This is what most folks think of when they think of St. Patrick's day.  This is usually no more than your regular run-of-the-mill light beer with green dye in it.  It's pretty boring and not very exciting, except it's green.
Better: Killian's Irish Red, Michelob Irish Red.  These are a couple of brews that don't fall into your green-beer category, but are still owned by the big guys.  They are close to your craft-brewed products, but they are not as good.  One advantage to these is that they are usually available.
Best: Boulevard Irish Ale, Samuel Adams Irish Red, Guinness, Harp, Kilkenny, Smithwick's, Raccoon River Stonecutter Stout, Gray Brewing Co. Busted Knuckle Irish Style Ale, etc.  Many of these beers are either made in Ireland, or are craft brews that are made by some excellent craft brewers who strive to create an authentic Irish-style stout, Irish Style Red Ale, or other Irish beer.  If you can get your hands on these, this is the best choice.  You'll thank me later!
So, when you decide what to have to celebrate today, just go for one of the "Best" beers, because that's what St. Patty's is all about!  Enjoy the best!