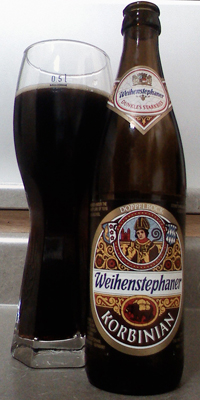 Today's beer of the Weihenstephaner Korbinian Doppelbock (7.4% ABV), brewed & bottled by Bay. Staats-Brauerei Weihenstephan, Freising, Germany. This Korbinian is a hearty, malt-driven doppelbock (or "double bock".) The Beer offers complex, roasted malt aromas of coffee, chocolate, caramel, bread and raisins, and delivers plenty of malt – with notes of peppery spice, alcohol and hop bitterness – on the palate. At the same time, this smooth, creamy, medium-to-full-bodied beer is eminently drinkable and highly regarded by lovers of the style.
If you feel the urge to do a comparison, I would suggest you try the Ayinger Celebrator (it has the little goat charm) and see which comes out on top.
If you've tried the Korbinian, let me know what you think. I've really enjoyed all of the Weihenstephaner beers.
*Side note: The Weihenstephaner Brewery opened back in 1040 making it the worlds oldest brewery.