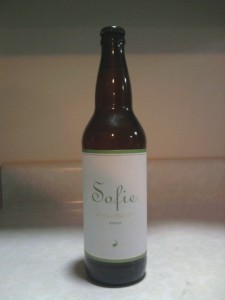 Sofie from Goose Island, made in Chicago,  is a 80% Belgian style ale blended with 20% Belgian style ale aged in wine barrels with orange peel.  At the start, it smells fruity, kind of like peach. It is very effervescent, and tastes very orange-y and peachy. It was served at 60 degrees, and had a slight Belgian yeast flavor.  It was a very delicious beer, and is my favorite of the three Belgian-style Goose Island beers distributed in Iowa: Pere Jacques, Matilda, and Sofie.
From their website, it is for lovers of the saison style, and uses Amarillo hops, which may be the main reasons I enjoy this so much.
Have you tried Sofie?  Which one is your favorite: Pere Jacques, Matilda, or Sofie?