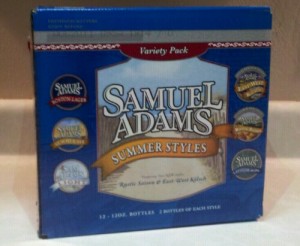 Summer has arrived! At least for Samuel Adams it has, since the Summer Variety Pack has arrived in stores.  This year, Pale Ale and Blackberry Witbier (a winner in the 2008 beer lover's challenge, which didn't seem to be judged by beer lovers, in my opinion) were replaced by two new styles: Rustic Saison and East-West Kolsch.
In the pack, there are 2 bottles each of:
Boston Lager
Samuel Adams Light
Summer Ale
East-West Kolsch
Rustic Saison
I have to admit, there's a lot of potential in this mix pack, particularly since I've tried the Rustic Saison on tap and it was pretty good. It should be a great summer beer.
Have you tried the Summer Styles Variety Pack?  What's your opinion?