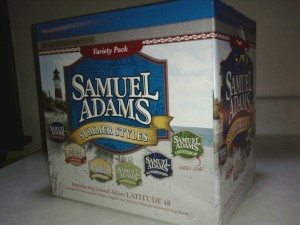 Today, when I got home from work, it was time to dust off the lawnmower and make a pass at the lawn.  The grass wasn't too long, but just patchy enough to need to take care of it.  Not that I was excited to mow the lawn, but you know what it means when it's time to mow the lawn, right?  Summer beers are here!
Just to double check, I stopped by the store, and sure enough, there were all the summer styles, or "lawnmower beer" styles, on the shelves.  Just to show there were no hard feelings with Samuel Adams, I picked up the "Summer Styles" 12-pack.
The styles in the pack are:
Boston Lager
Sam Adams Light
Summer Ale

Blackberry Witbier

Latitude 48 (Samuel Adams' new IPA – review to come)
Every year, I enjoy the mix-packs, and this one is no exception.  With variety like that, how can you hate summer?  Cheers!