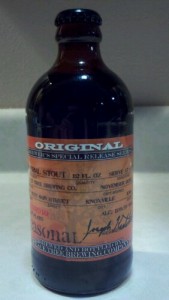 When I visited the Peace Tree Brewing a weekend ago, I picked up a bottle of the small batch Imperial Stout.
It poured very dark, and was a sweet smelling stout with a hint of a chocolate aroma.  Immediately I could taste the dark malts with a chocolate flavor, and there was a bit of flavor from the Belgian yeast.  It had slight flavor notes of figs or prunes.  There was very little alcohol warming, even though the beer was listed at 10 percent.  The body was lighter than I thought it would be at that strength, but it balanced it out quite nicely.  It was a great beer, and should be found across Iowa now.
Have you had the Peace Tree Imperial Stout?  What was your take?