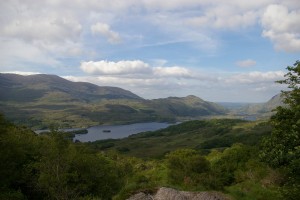 This is day two on our honeymoon in Ireland.
The next morning, my new bride and I woke up, had our breakfast, and continued to the next stop on our Irish journey: Killarney.  Along the way, we took the ferry across the Shannon river, which was neat, and saved us a couple hours driving time.
As soon as we got to Killarney, we checked into our second bed and breakfast, then decided to take a short tour of the town.  Along the way, we took a horse-and-buggy ride of Killarney and Killarney National Park.  Killarney National Park is one of the largest parks in Ireland, and is home to the famous Irish red deer.  We also visited Ross Castle.  We had a nice time, and our guide continually got out of the carriage and took our picture in several scenic locations.
After our ride, we decided to attempt traveling the Ring of Kerry, a large scenic route around the Kerry peninsula.  Along the way, we stopped and took a tour of the Muckross House.  The history of the house was fascinating, but the most interesting part was the original owners, Henry Arthur Herbert and his wife, spent large amounts of money to prepare for a visit from Queen Victoria in 1861.  A good visit from the queen would allow them Lord and Lady status, giving them a higher social stature and the privilege to land ownership.  After the queen's visit, however, her husband, Prince Albert died, and the status never was granted.  Because of these events, the family had to sell the house because they had become bankrupt.
Along the way to the Ring of Kerry, we took several nice scenic photos, such as the one shown as "Irish Hills".  Because we had not gotten used to the driving, we decided that the 5-hour trip along the narrow road opposing buses would be too much for us to handle, so we only traveled part of the ring.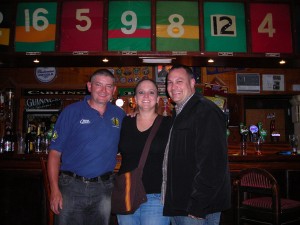 After the car trip, which was still about 3 hours, we decided to rest a bit before going out in the evening.  Once we were up, we toured around looking for a place to eat.  The restaurants in town had the menus shown in front, so, while we decided where we wanted to go, the clock turned 9, and most places didn't serve food anymore.  Because the U.S. has places to eat at almost any time, we weren't quite prepared for this.
We finally found a take-and-eat (a.k.a. fast food) place that had freshly battered fish and chips.  Right up the street, many of the pubs started to play music, so after our meal, we went into one of the local pubs.
After a few pints of Guinness (and one Beamish stout) while listening to music, the pub closed down.  As we looked around, we could only see a few other folks in the pub, and we started chatting with the bartender.
He told us that he used to be a firefighter in New York City.  One day, there was a call at Derek Jeter's residence, and he was one of the firefighters to respond.  Although it turned out to be a false alarm, Derek Jeter was thankful, and signed a card that said, "Take care of this guy. -Derek Jeter".
The next time he went to a Yankees game, he and his two young sons were brought to box seats, and were even invited to the post-game party, but he said he had to bring his sons home.  After that, for seven years, he bought Yankees season tickets, including the post-season, in the box seats for only $5,000.  It was a great story, and we were glad to have met him.  After that, we were even able to snap a quick photo with him for posterity.
That night was when I decided to start my Guinness mission, and that day brought my Irish Guinness total to 5.  Stay tuned for the remaining 27!