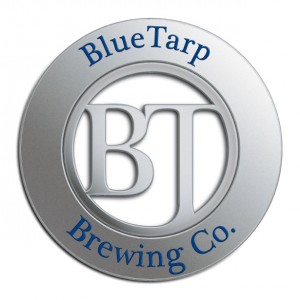 A week or so ago, I had the pleasure of meeting Tom Stahl, co-owner and head brewer of the soon-to-be brand-new Blue Tarp Brewing, located in Decatur, Georgia.
Over the course of about 90 minutes, Tom took me around the warehouse space that will be one of Decatur's first production breweries.  In fact, Tom mentioned they helped change the law in Decatur to allow breweries.  At the time I took the tour, most of the equipment had been purchased or built, and construction was almost complete.
Tom mentioned the brewery plans on releasing two beers at launch, an IPA and a red, but I believe the names were still not finalized.  At launch, the beers will be on draft locally, with the plan to expand to a canning line in the near future.
When asked about the name of the brewery, "Blue Tarp", Tom reminisced about when he and his good friend, also named Tom, first homebrewed, it was a rainy day.  Since they were using a propane burner outside, to protect the new brew from the elements, they decided to put up a blue tarp.  About halfway into the brew session, one of the brewers noticed a warning tag on the tarp that said "EXTREMELY FLAMMABLE, Do Not Place Near Open Flame".  By that time, it was too late to take it down, and, luckily, the brew day ended without incident.  As an homage to that first day, Blue Tarp Brewing was born.
During the tour, Tom's passion for great beer shined through, and I wish him a lot of luck with the new brewery.
Let us know if you get a chance to try some of Blue Tarp's offerings when the y become available!