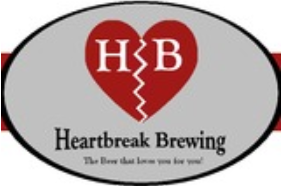 A startup brewery in Des Moines, Heartbreak Brewing, is trying a new way to fund a portion of the new nano-brewery, Kickstarter.  If you aren't familiar with Kickstarter, it's a new way to crowd-source funding for a variety of projects, including music, movies, and, in Heartbreak Brewing's case, beer brewing.
What makes Heartbreak Brewing unique is it's planning on going completely electric for reduced cost and reduced carbon footprint.  I spoke with Dan Haggerty, Jr., the owner, and he gave some of the initial details about the brewery:
They plan on starting small and expand
They will initially keg their beers and bottle some of the main beers.  He also mentioned they are going to support a bottle recycling program that will give points toward growler refills and merchandise.
The distribution will start in Des Moines, and go outward from there
I've contributed to the Kickstarter campaign that ends June 1st, 2012.  Support more good beer, and help the new brewery!