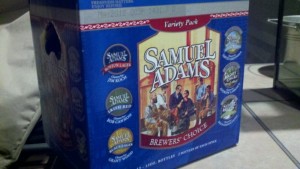 For spring, Samuel Adams this year decided to go back to the Brewers' Choice mix pack instead of again releasing the "American Originals" spring pack. The beers in this year's spring mix pack show a few big changes, most notably Noble Pils is now a full-time beer, and no longer the spring seasonal.
In the pack, there are 2 bottles each of:
Boston Lager (Chosen by Jim Koch)
Irish Red (Chosen by Bob Cannon)
Black Lager (Chosen by Grant Wood)
Alpine Spring (Chosen by David Grinnell)
Mighty Oak Ale (Chosen by Andrew Lamont)
Whitewater IPA (Chosen by Dean Gianocostas)
It is a large change in a seasonal pack, where the only overlap is the Boston Lager and Irish Red.  New to the pack is the new spring seasonal, Alpine Spring, which is a light, crisp lemon-like brew.  Also in the pack, which is available in six-packs is the Whitewater IPA, which is a cross between a witbier and an IPA, similar to Boulevard's Collaboration #2, the White IPA.  Finally, the pack is rounded out by the Mighty Oak Ale, which is a carmel-flavored amber ale with vanilla and oak notes.
Have you tried the Brewers' Choice Spring Variety Pack? What did you think? Which ones did you like? Which ones didn't you like?