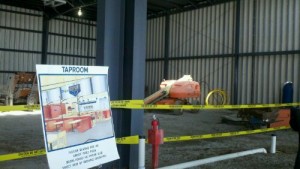 This past weekend was the first annual Brrrfest in Coralville.  Here were some of the highlights:
1) We got to "tour" the new Backpocket Brewery.  As of right now, it's a wide-open building with little more than structure.  A few concept drawings, like the one labeled "Taproom" were placed in front of the caution tape, but it was exciting to see the progress.
2) Over 1,800 tickets were sold, and I'm willing to bet that at any one point, there were around 1,500 people enjoying beer at the 40+ vendors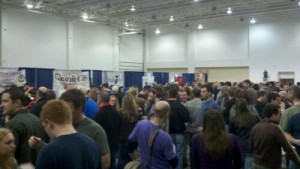 3) If beer wasn't your thing, Cedar Ridge was present with Bourbon (aged and unaged) and few of their own vodkas and rums.
4) Jolly Pumpkin only had one different beer on tap, but it rotated every couple of hours, so it got you back to the booth
5) At 3PM, Peace Tree tapped a Templeton Rye aged Imperial Stout.  There was a mad rush for the deliciousness, and it was worth it.
Those were my list of highlights for the Brrrfest.  What did you like about the festival?