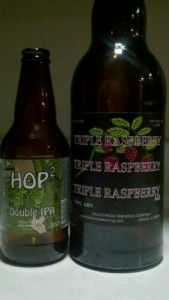 Well, it's been one year since the March 10, 2010 signing of SF 2088, which included a resolution to allow higher alcohol beers to be brewed by Iowa brewers.
So what's changed?  In addition to brewers outside Iowa being able to more easily sell their high-gravity beers in the state, it has become much easier for the breweries in Iowa to brew these stronger beers, such as Double IPA's and the majority of Belgian-style beers.  This has allowed Iowa breweries to compete with those in other states, and will give Iowa breweries the chance to make almost any beer style they want without the state coming down on them for having stronger beers.
Although this isn't an exhaustive list, here are several of the beers in the higher-proof category that came out in the past year (this doesn't include all the beers local breweries and brewpubs created, such as Third Base Brewery and Rock Bottom Brewing):
Triple Raspberry
Double IPA
Imperial Stout
So, in the past year, the beer landscape in Iowa has become more diverse and flavorful.  Even the local Iowa City paper recently wrote about the changes in the state after the law was passed.
Now is a great time to be a beer lover in Iowa, and it will only get better from here.  Have you enjoyed the change in the beer scene in Iowa?  What other changes would you like to see?