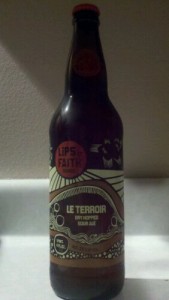 A few days ago I had the chance to sample one of the new sour beers from New Belgium, Le Terroir. It is a dry-hopped (with peach/mango flavored Amarillo hops) sour ale that changes from batch to batch (sounds like homebrewing).
The beer had a nice citrus aroma, similar to a grapefruit or a lime. The taste had a hint of sour on the front of the tongue that became more pronounced toward the back of the tongue. It left a nice refreshing finish with a bit of lingering sweetness. The beer reminded me of grapefruit juice, and I thought there was a nice amount of sourness without being too overwhelming. I enjoyed this beer very much.
Have you tried Le Terroir? What was your take?