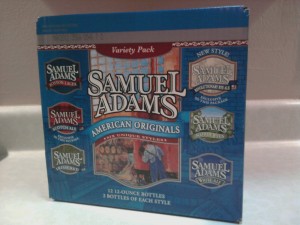 Now that the calendar has turned the page to 2011, breweries are beginning to release the spring seasonal packs (except Leinenkugel's, who thought Dec. 1 was late enough in the winter season).
The spring seasonals are a great way to start to shed the strong, malty beers of winter and begin to enjoy the lighter beers the new year brings. Samuel Adams repackaged their Spring Brewmaster's Variety Pack by removing the Honey Porter, Black Lager, and Boston Ale, and renaming the pack the "American Originals" along with adding a few new beers.
In the pack, there are 2 bottles each of:
Boston Lager
Scotch Ale
Noble Pils
White Ale
Irish Red
Revolutionary Rye (winner of the 2010 Sam Adams' Beer Lover's Choice)
So far, the pack looks good, with the Irish Red being one of my top 10 beers.  The Revolutionary Rye looks interesting, so look for a review of it soon.
Have you tried the American Originals Spring Variety Pack?  What did you think?  Which ones did you like?  Which ones didn't you like?