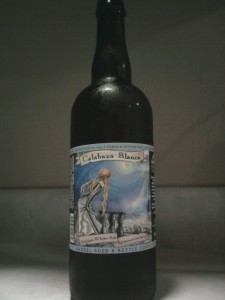 While most of the beer I have enjoyed lately have either been Oktoberfests (one of my favorite styles), or some of my homebrewed beer (such as my recent Harvest Ale), I recently had a chance to sample Calabaza Blanca, one of the offerings from a new-to-Iowa brewer, Jolly Pumpkin.
It is Belgian-style witbier, and I felt it was a perfect example of the style.  It was light and refreshing, with a bit of a tart flavor. It did smell slightly fruity, and had a hint of a 'sour' scent to it. The finish was light and refreshing.  It was a great beer, and hope to see more around soon.
Have you had Calabaza Blanca?  What did you think?