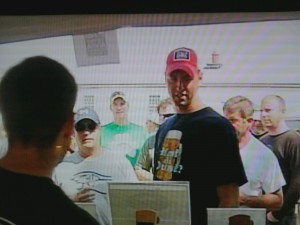 This past Sunday, the sixth annual Iowa Festival of Beers was held in Amana, next to Millstream Brewing.
This year was very exciting because of the opening of a few new breweries in the past year, including Peace Tree Brewing and Madhouse Brewing, along with the availability of "high-proof" beers.
In addition to the Iowa breweries, several of the area homebrew clubs, including those from Iowa City and Cedar Rapids, were able to share beers by several of their members.
Some of my favorites included Peace Tree's Cornucopia, a farmhouse ale (saison), made with sweet corn.
Also, there were several beers from Old Man River Brewery and Restaurant in McGregor, Iowa that were very good, including a dunkel.
The local news was also there, and my friend, Joey, and I ended up in one of the cutaway shots (see the photo).  It was a great day with great beer.
Did you get to the Festival of Iowa Beers 2010?  What was your favorite?