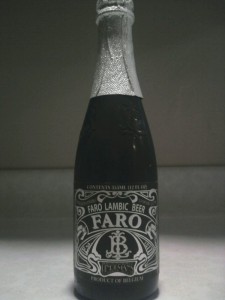 Last night, I had the chance to sample Lindemans Faro Lambic. Compared to the Lindemans Cuvee Rene Gueuze, this Lambic has a nice sweet attribute, due to the addition of candy sugar to the finished beer.
The beer smelled sweet with a hint of a sour, lemony scent. With the first taste, it started tart, and then, toward the back of the tongue it turned into a sweet flavor.  It left a taste of molasses or brown sugar in my mouth.  I loved the sour and sweet dynamic of the beer, much more than the overpowering sour flavor of the Cuvee Rene Gueuze.
I have no doubt I will purchase the Faro again.  Have you tried the Faro?  What was your experience?