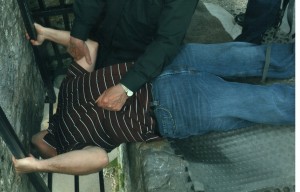 This is day three of our six day honeymoon to Ireland.
The next morning, we woke up, had a nice breakfast, and headed to our next bed and breakfast.  On the way, we stopped at Blarney Castle.  According to legend, if you kiss the Blarney Stone, you gain the gift of gab, or the gift of flattery.  To kiss the Blarney Stone, you lean backwards and descend to kiss the bottom of the wall, which is where the stone is placed.  The stone has been kissed by many of the world's greatest orators, most notably Winston Churchill .
Being deathly afraid of heights, Grace, my new wife, had me go first to see if I would go through with it.  Very quickly, I sat down, leaned back, grabbed the support rails (recent additions, mind you), and slid down to kiss the stone.  Immediately after, Grace did the same!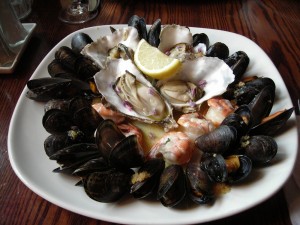 After touring the Blarney Castle, we traveled through Cork, then on to Kinsale.  Kinsale was a quaint little harbor town that reminded Grace of Maine, because of the way it smelled and the aura it had.  We had lunch at a nice place downtown.  After we had toured the downtown, we hopped back into our car to go to our next bed and breakfast.  Thinking we were headed back to Cork, I pulled out the location, and began entering it into our GPS.  As soon as we began entering the address, we realized that our bed and breakfast was in Kinsale.  Even though we booked it a month before, we had forgotten we had chosen a place in Kinsale, and we were very excited to stay.
After we checked into our bed and breakfast, we went back down to the city center and had some dinner.  Grace was already tired of fish and chips, and really wanted fresh seafood.  At the restaurant "The White House", they had the largest, freshest plate of seafood I've ever seen.  It was delicious!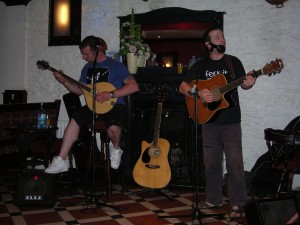 After eating, we walked around a bit, and found a pub where the musicians were just setting up.  We walked in and got some front-row seats, so we wouldn't miss anything.  Right away, as they began to play, the singers asked for us to cheer loudly to attract others, and within about 10 minutes, we were able to get the place packed.
We had a great time, and were treated to some traditional Irish music, including "Whiskey in the Jar", and "Cockles and Mussels (Molly Malone)".  At some point, someone discovered that we were on our honeymoon (I may have tipped someone off), and they sang the song "Congratulations" to us, and a couple of people from Philadelphia bought us a round of Guinnesses.
After the musicians wrapped it up for the night, some ladies who were in Kinsale on a ski (Spending Kids' Inheritance) vacation from south of Dublin told us some nice words of wisdom to keep our marriage happy forever.  I don't really remember them now, but I'm sure they were good tips.
That day in Kinsale, over lunch, dinner, and evening drinks, I caught up and had 7 Guinnesses, bringing my Ireland total up to 12 (out of 32).  If you're keeping track, there's still 20 left.  Keep checking in to see when they happen!