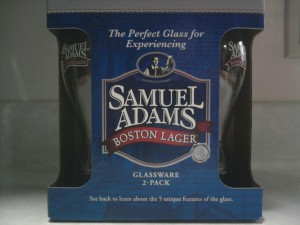 If you remember when I wrote that the beer glass makes a difference, you may recall the mention that the Samuel Adams Boston Lager has a glass specifically designed to showcase the strengths of the beer.
As I was browsing the beer aisle, I noticed Samuel Adams is selling two-packs of the special glasses, and of course, I had to pick a set up along with a 12-pack of the lager.
As I stated before, it sure does make a difference!  Compared to your standard pint glass, the hop flavor isn't overpowering, and the flavor really balances out.  Before this retail pack, you could only order them online, so kudos to Samuel Adams for making the glasses more available!
Have you tried the "perfect pint"?  What are your thoughts?