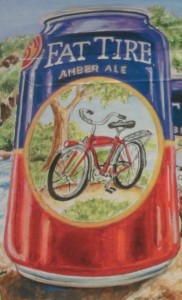 With Memorial Day signifying the start of summer, it's about time to think about putting away the bottles and bringing out the cans for a nice relaxing boat trip. But instead of the traditional macro-brewed cans on the boat, why not try something a bit more delicious?
Some of your favorites happen to be in non-breakable aluminum, and just so happen to be a bit more "green". Oskar Blues, the brewery made famous for canning all of their massive brews (Dales Pale Ale and Old Chub are some great examples) outline the benefits of why they use cans on their website:
Unlike beer cans of the past, today's aluminum can and its lid are lined with a water-based coating.  Beer and metal never touch and there is no exchange of flavor.Aluminum can keeps beer fresher for longer by fully eliminating the damages of light and ingressed oxygen.

Lightweight cans enable Oskar Blues to reduce its fuel costs and carbon footprint for shipped beer by 35%.

Highly portable, unbreakable cans enable craft beer lovers to easily enjoy great beer in places where glass bottles are not welcome or allowed: the beach, pool, boat, trail, river, slope, tub, golf course, backpack and others.

Cans are the most easily and frequently recycled beverage package in the world.

A recycled aluminum can generates 95% less pollution than one made from scratch and requires 96% less energy.

One recycled can saves the energy equivalent of 6 ounces of gas or the electricity to power a guitar amplifier for two hours.
Over the Memorial Day weekend, I had a chance to try Dales Pale Ale, and as soon as you cracked open the can, you got a big whiff of citrus.  That's a great pale ale.  Some of my other favorites include New Belgium's Fat Tire, Leinenkugel's Summer Shandy, Shiner Bock, and even Boulevard's Unfiltered Wheat can be found in aluminum bottles.
So, when you can't have glass bottles, go for one of your favorite craft brews in a can!
What's your favorite canned beer?  Do know of any other craft brewers canning their beer?